Weird & Güd - You Are Owed No Answers
Try as you might, you'll still be thrown
I enjoy research too much and I'm a shameless critic. Weird & Güd is the conjoining of those misanthropic qualities into something useful: recommendations and fascinations neatly packaged together for you every week, no hermeticism required.
---
The Weird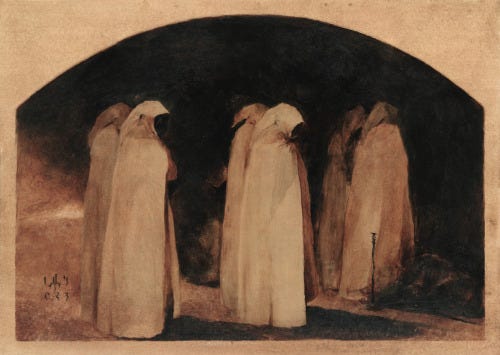 Study for Hypocrites (illustration for Divine Comedy by Dante Alighieri/Inferno, Canto 23), after Francisco Goya after John Flaxman, 2015

Acrylics on paper, 29.5 x 41.7 cm
For this week's Weird I'm sharing some art that easily earns a spot on the newsletter for its eerie and occultist imagery.
Denis Forkas is keeping the Russian tradition of occultism alive with these works of art that are just mystical and unsettling enough to make the devout suspicious.
Jiang-shī Mask (painted over Claudia Escalante's automatic study)*, 2014

Acrylics and ink on paper, 27.7 x 21.3cm
The Golden Thread (Duke of Athens and the Infamy of Crete)*, 2014

Acrylics on canvas mounted on cardboard, 30 x 40 cm
Death's Door IV, 2013-14

Ink and acrylics on paper, 41.5 x 29.5 cm
In an interview, Forkas gives background on how the occult—all that is beyond the strict explanations for the unexplained offered by religion and science—informs his work and life:
As a child I once ran into this monstrous species of a European beaver by the lake and it was so tall and graceful I first thought it was a person. It stood upright – apparently it was gnawing at a tree trunk when I showed up at the clearing. It calmly turned its head toward me, nodded and I could swear it said something while I was still too shocked to process it properly.

Now, did it all really happen and if it did – was the animal as large and anthropomorphic as I remember it to be? Maybe it was a person after all – some feral kid living in the woods; we used to hear stories like that at school all the time.

My point is it is not the facts that matter here – it is my twisted memory of the encounter and how that memory transformed me, my way of thinking and my art.
"Your Cup is Full". Study for a Minoan cylinder seal impression*, 2012/2017

Acrylics on prepaped paper, 13.7 x 18.5 cm
Baldrs Draumar. Eljuðnir, 2016

Acrylics on paper, 38.4 x 26.4 cm
The occult may seem easy to write off as merely out-dated mysticism or ignorance of soon-to-be-discovered scientific explanations, but out-dated though we label it, occultism still quietly brews on today.
Study for Abel's Body*, 2015

Acrylics on paper, 24.3 x 28.5 cm
The Triton's Mirror*, 2014

Acrylics on prepared paper, 55.7 x 41.5 cm
The work of Denis Forkas is a refreshing glimpse into the irrational aspects of human existence that we have long tried to invent, condemn, and regulate our way out of. Yet, some things still feel beyond words. Every now and then we feel something we know that we do not know enough to grasp; an unnerving scene in a dream or the sense that a situation has moved just beyond our control.
It's in the spaces between rationality and tradition that we find ourselves seeking answers to fragile questions. Forkas does a masterful job at imagining how that guideless and unnamed journey might appear.
The Güd
Victor Mosquera
I've been in Los Angeles for over a month now and even though it's the most kitschy, famous-to-the-point-of-banality landmark, sometimes when I see the big white letters of the Hollywood sign I get this strange feeling like I'm in a video game where my character has made choices that have yielded a distinct but unknowably good or bad outcome. I stare at the sign and think "Here I am. Of all times and all places, here I am. Strange."
Geworfenheit.
That's right, we're talking about that philosopher everyone loves to hate, Heidegger.
Geworfenheit is best translated into English as thrownness, a word my robotic spellchecker refuses to recognize. And how could it? Thrownness is an experience found solely in the realm of human life. Not even animals with their survival-focused agendas have the unique intersection of cognition and meta-cognition to wonder about the wonder that is their own existence.
No, it's only humans that have been blessed with the curse of philosophy. Or as Camus puts it, "Man is the only creature who refuses to be what he is." Heidegger has a few words for what that refusal itself amounts to but Heidegger has a few words for almost everything, so we'll stick to geworfenheit for now.
When you find yourself beneath the proverbial Hollywood sign, wondering how the hell you got there and how little sense life seems to make, you're in the midst of thrownness. It's in thrownness that we feel both dwarfed and freed by the chaotic manner in which the world has given us our strange, small life. And it is so, so strange that you sit there, a person with a life, not past not future but now, connected in arbitrary ways that bring you to experience an infinitesimally small fraction of this world, a fraction of this world known as your life. Tiny and unprecedented all the same.
The next time the world seems like a chaotic place and you feel as though every turn in your life has been pure chance flimsily disguised beneath intention, embrace thrownness as an integral part of humanness; appreciate the oddity that is living.
Neutral Milk Hotel sums up thrownness best in just one line:
how strange it is to be anything at all.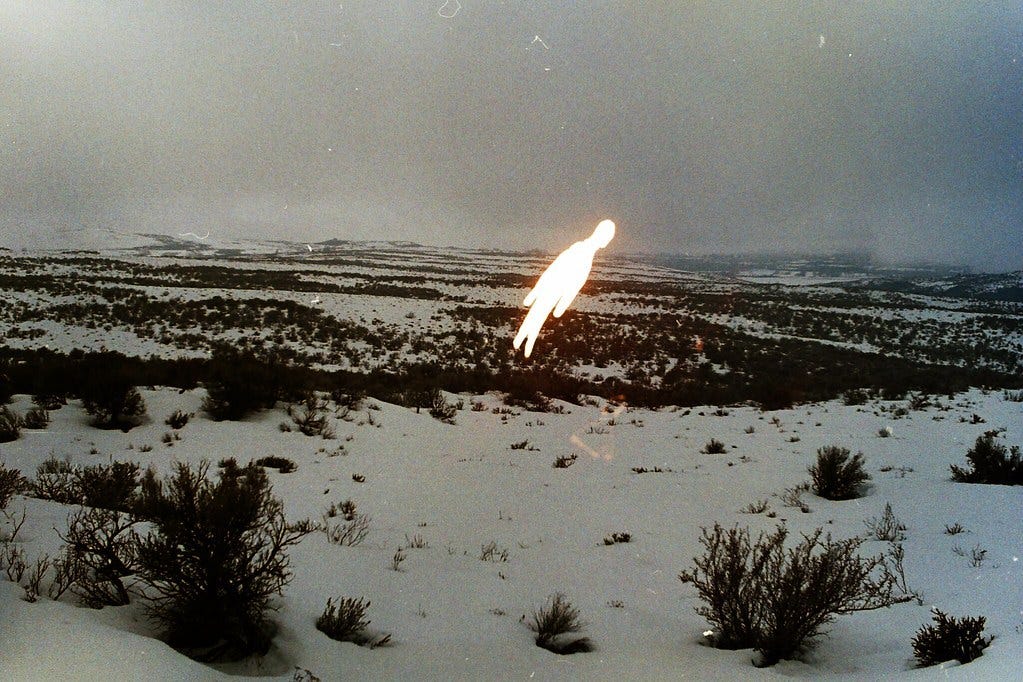 Sean Fitzgerald, Untitled (from the series Winter Ghosts), 2017
I hope this makes your week a little weirder and a little güder. Now go forth, be weird, and above all, be güd.
---
I sit alone at a desk biting my nails to bring you every edition of Spiritual Soap. Is it worth it? Don't tell me, show me.